Psychotherapist Jamie Karia has created a children's book series based on her beloved Bengal cat, Bacci. This series was created with the hopes of using Bacci's adorable cartoon character to teach essential skills to children and adults alike, such as communication, self-kindness, mindfulness, and creativity.
The adorable cartoon version of Karia's beloved Bengal was chosen for this series due to the significant impact he had on Karia's own life.
"This is inspired by my cat Bacci. He's no longer with me but he's very special to my heart and he taught me a lot of life lessons myself being a cat mom. And I want to use him as a vehicle to share with the world, "says Karia
In the series, Bacci is depicted as a superhero cat who goes on exciting adventures of self-discovery. He even appears in his very own Youtube videos, where he teaches guided meditations to children.
Karia uses bright and exciting colors in the depictions of Bacci's adventures. She hopes that these stories (whether in book format or videos online) will serve as teaching tools so that children and adults alike can explore self-awareness, mindfulness, and acceptance (to name a few).
Karia has even used the Bacci character to create affordable resources for teachers, including several $ 0.99 workbooks that educators, therapists, and family counselors can use to help their students open up comfortably.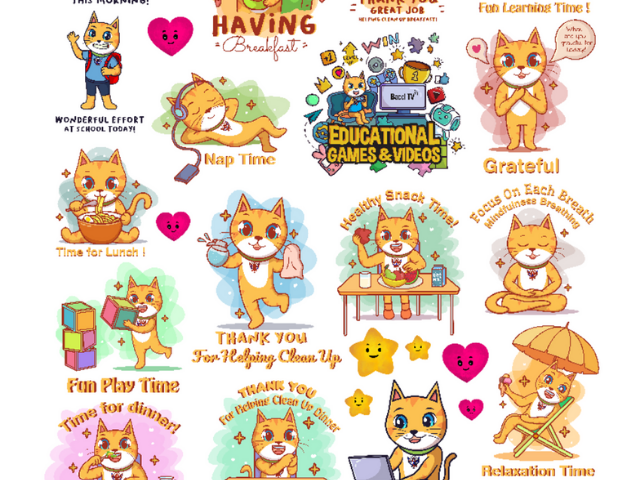 Karia explains the many positive uses for cartoon Bacci in her own words:
"Identifying triggers, positive and negative. Exploring safety planning, family safety planning from natural disasters. Like that's big, especially with what's happening right now. So we're talking about complex mental health stuff in a more digestible, maybe lighter fashion. " – Jamie Karia
The Bacci books, which are all available for pre-order online, will include a space towards the back of the book where children can write and draw their own stories). The thought behind this intentional empty space is to give kids the confidence to write their own stories and explore their imagination!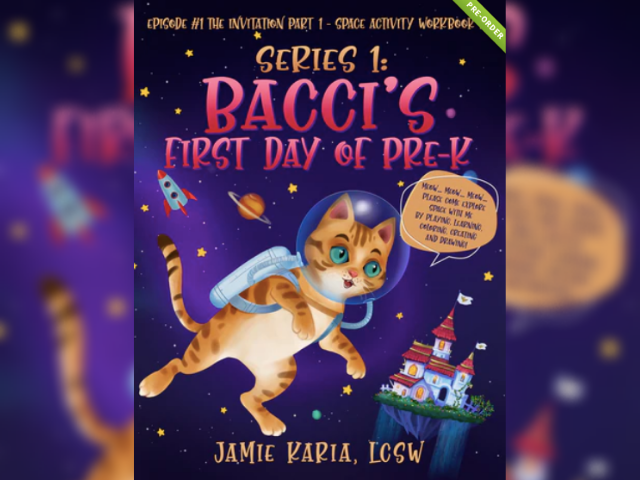 "It's kind of like allowing the child to be engaged in the process. So in the first book, the child is asked to create their space story and illustrate it. And what's cool is I remember when I was a kid we were told not to write in the books or color in the books or disfigure the books in any way, whereas I am encouraging kids to write in this book, to color, to cut out little stickers. So it's interactive, it's personal to them, "says Karia
Karia hopes that Bacci will one day be the star of his own television show, giving parents an educational alternative to standard programming. Bacci's stories have already made a significant impact on many, and Karia hopes that he can continue to serve as a positive influence for young ones for years to come.