The course organizers, Henry Tremaine and Catherine Mayes, must be applauded for taking a large risk in arranging this excellent live event.
I was so keen to participate that I had a senior moment when I left my home. I arrived at Terminal 5 at Heathrow Airport 24 hours too early. This did not faze the friendly British Airways staff member called Henry.
He immediately realized that I had not obtained matron's permission for this excursion, quickly relieved me of my iPad mini, downloaded and updated my passenger locator form, dragged pieces of information off my phone and managed to get me on to the flight that was due to depart that day.
That was not the finish of the help I received on the journey. A kind Swiss guy and his girlfriend who were going from Zurich to Lucerne not only made sure I got on the correct train in Lucerne to get me to Engelberg, but also rang the course hotel, The Terrace, to book me in for the extra night . My new Swiss friend telephoned me while I was having a very welcome supper to make sure I had arrived okay.
Writing this article is rather like giving the bridegroom's speech at a wedding – there are so many people to mention and thank. Emma Jones and Lizzie Barnard from BOVA get five gold stars each – they both were so hospitable throughout the event, not only providing the clothing, but also picking up the tab for all the lunches. I am terrified of heights. Emma took me on a cliff walk on the top of the 10,000ft high Titlis peak.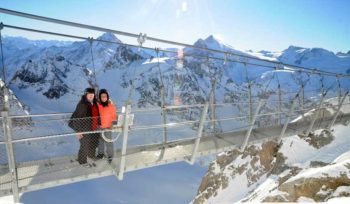 I had not been so frightened for six years since I went with my daughter zip wiring and sleeping in tree houses in Laos. My cowardice is in total contrast to the courage shown by Wendy Colgan, who sadly severely damaged her left knee. I know I speak for us all when I wish her a speedy recovery.
Underrated
There is no doubt that Engelberg is a little-known ski resort and underrated even by its home nation. It is a quiet town in the center of Switzerland with easy rail and road links to Zurich. When I was gasping for breath on the slopes, in sight of a historic monastery, I reflected that it was a very beautiful place to die.
I understood from the many expert skiers at the party that there were many north-facing snowy slopes with huge vertical drops, making a perfect recipe for high-quality off-piste skiing. Equally, there were many beautiful open pistes for less adventurous, but useful skiers.
High-level speakers
I would not like readers to think the trip was just a recreational experience. We were all treated to 10 hours of top-grade equine CPD, given by the cadre of high-level speakers without any remuneration.
The interaction between the speakers and the audience was exceptional. This very useful reflective learning with evidenced-based conclusions made the whole experience extremely worthwhile.
On the first morning after Henry Tremaine from B&W Equine Vets had welcomed us all, Andy Bathe from Newmarket gave us two sessions: the first on the common pitfalls in lameness and prepurchase examinations (PPE), and the second on the use of imaging in PPE . We all felt privileged to be addressed on this advanced topic by a renowned expert.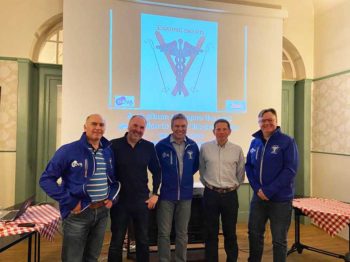 On the second day we heard from Warren Schofield on a specific case of fungal arthritis. He cleverly used this to broaden the discussion on to other sporadic mycoses. Henry Tremaine gave what, for me with my work in the developing world, was an extremely useful lecture on modern wound management. I am sure practitioners, whether in primary care or referral practice in the UK, found the lecture equally illuminating.
On the third morning, Ben Mayes from Sussex gave a frank talk on vetting the affordable horse. This subject was embraced by the audience and very useful discussion ensued. In the evening, Bruce Bladon from Donnington Grove gave a very honest account of the use of antibiotics in his practice in the past 10 years, which provoked some very serious discussion as others revealed their problems.
Not all the lecturers were from the UK or Eire. We were lucky to be given an insight into the management of fissure fractures of small bones from Anton Fuerst from his clinic in Zurich. He is not only a good orator, but also a top-class skier. The best of our skiers joined him in attacking the ample powder snow in the area.
We all contributed to the final session on Thursday evening. All the delegates were asked to show a relevant picture from their lives and discuss in two minutes how they thought they could help the profession – particularly the equine sector – to aid retention of graduates. The different viewpoints and ideas were very illuminating.
Dedication
As a very old practitioner, I take considerable solace from the obvious dedication of all the age groups represented. It made me determined to try to remain fit and active so that I can join Equine Ski-PD in 2023.
.