Ask any veterinary practice manager or receptionist "What's the one thing that would free up more time for you to focus on doing what you love?" and in many cases they would answer: "Fewer telephone calls".
Since a significant number of those calls are from pet owners wanting to book, amend or cancel appointments, why not automate the process and free-up valuable time that could be spent helping pet owners within the practice or those in urgent need?
For some, the response is the perceived loss of "personal touch" that comes with automated technology. Others doubt whether it can really drive efficiency gains within the practice.
To discover whether these fears are justified, the leading veterinary appointment booking platform, Vetstoria, surveyed 104 veterinary practices to determine how online appointment booking impacts their teams and clients.
Respondents included independent and corporate-owned practices in the US, the UK, Australia, the Netherlands, Germany and South Africa.
Online booking saves valuable time for veterinary practices
After asking "How much admin time does online booking save your team every day?", 89% of respondents stated that it saved them between five minutes and two hours per day.
In an average week that's between 35 minutes and 14 hours of additional time that can be spent offering the best possible service to clients or for a well-deserved daily coffee break.
Why is this important? Because one of the key obstacles to providing a more intimate, caring service is lack of time. Even if it is an extra 10 minutes spent reassuring a worried pet owner (without pausing to answer the phone) it makes all the difference.
Furthermore, a huge recruitment and staff burnout crisis exists in the industry, and alleviating stress wherever possible is key to solving that.
Of course, some practices feel time savings more substantially than others. Responding to the final question in the survey, Craig Stone from Animal Trust, a non-profit with practices across the UK, described the impact as "astronomical".
"Online booking has enabled Animal Trust to reduce the overall call handling by an ASTRONOMICAL amount. Therefore enabling valued time to be put to better use "- Craig Stone, facilities manager, Animal Trust
Pet owners love booking appointments online
After asking "What is the feedback from pet owners on the ability to book appointments online?", An overwhelming 86% of practices reported positive feedback from pet owners, with less than 1% reporting negative sentiment.
This was not surprising for the team at Vetstoria, as pet owners appreciate the added convenience of booking and paying for appointments on the practice website 24/7 without waiting on hold or anxiously sitting by the phone hoping for the practice to open.
Feedback submitted by 1.5 million pet owners who have booked appointments through Vetstoria shows a 96% satisfaction rate – which backs up what the survey respondents stated (data taken from Vetstoria's booking widget).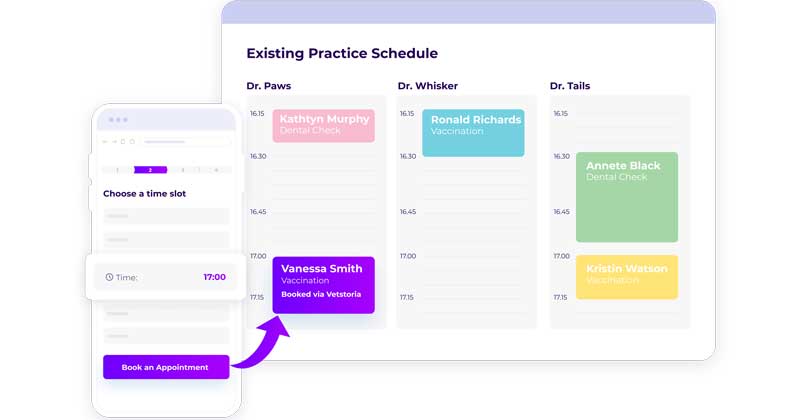 Automated booking = more engagement and better pet owner experience
After asking "Has automating the booking process given your team more time to engage with clients in-house or over the phone?", More than 60% responded yes, with a little over 10% responding no, supporting the opinion that online booking saves time for most veterinary teams.
The results also support the view that time-savings from automation can lead to more engagement with pet owners in-house or over the phone on non-booking-related queries. The following response from Will at Frankston Heights Veterinary Center in Australia reinforces this:
"Reducing the number of telephone calls for appointment booking has created more time for the reception team to service those people who telephone for other reasons" – Will Gartrell, vet and co-owner, Frankston Heights Veterinary Center
This is important as it paints a picture where online booking does not reduce the personal touch or negatively impact the pet owner experience, but enables and enhances it.
But what do those working within veterinary practices think?
After asking "How has online booking impacted the level of service your team is able to offer pet owners in your practice?", 47% of respondents declared that it had an "extremely positive" impact, with just less than 39% stating a positive "impact. A total of 12% noticed no significant change, while less than 2% felt pessimistic.
The ultimate time-saving client experience tool
Despite there being concerns around losing the personal touch when automating processes, based on the feedback of Vetstoria users, online booking actually enhances the pet owner experience for most.
As pet owners can self-schedule appointments at their convenience, they feel more control over the process. Furthermore, since admin teams save time associated with the appointment booking process (answering calls, sending confirmation emails, taking payments and so on) they have more time to deliver a better experience to those they serve.
If you would like to learn why more than 3,000 veterinary practices use Vetstoria to automate their booking process, contact the Vetstoria team at hello@vetstoria.com or visit www.vetstoria.com
.